BME/CENG/ELEC/SENG 499 - Design Project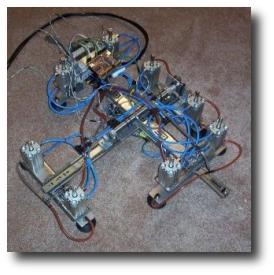 The BME/CENG/ELEC/SENG 499 Design Project is intended to provide an opportunity for students to carry out a significant design project working as a team of 3-5 persons. Each team will be assigned a suitable project supervised by a faculty member. The projects may originate from faculty members, students, companies, or other external sources. They may have a diverse nature (theoretical investigations, practical designs, measurements, software developments, etc.) and serve diverse needs (research, undergraduate laboratory experiments, open house demonstrations, feasibility studies of interest to local companies, etc.). For multi-disciplinary projects or acceptable projects originating outside the Department, a faculty co-supervisor will be appointed.
Pictured is the "Amazing Wall Climbing Robot" - one of the recently completed BME/CENG/ELEC/SENG 499 projects.