Next:
About this document ...
Up:
Solution to Assignment 3
Previous:
Question 3
A linear time invariant filter is described by the difference equation y[n]=0.8y[n-1]-0.8x[n]+x[n-1].
1) Find H(z) and identify the poles and zeros.
2) Find an expression for the frequency response, assuming fs=44,100 Hz.
3) Show that the magnitude of the frequency response is 1 for all values of f.
Solution.
1) The z-transform of y[n] is



Thus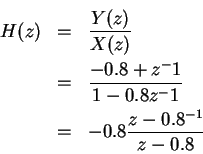 H(z) has pole at z=0.8 and zero at z=0.8-1=1.25.

2)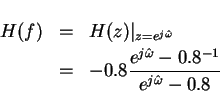 3)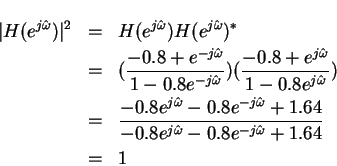 Frequency response of the filter is shown in Fig.5.