Accommodation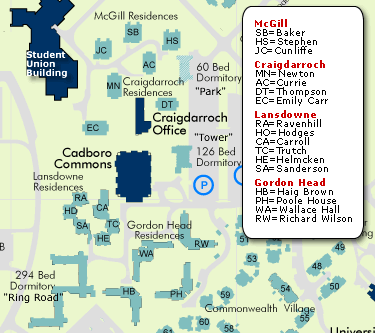 On-Campus Housing (a 5-minute walk to the conference venue): Throughout the summer the University of Victoria offers visitor accommodation at its residence buildings. Bedrooms in Residence (dormitory) buildings come with either 1 or 2 single beds. Shared washroom facilities are located on each floor and are designated by gender. Guests can enjoy internet access in their bedroom (ethernet cord required - wireless is available) and on each floor there is a central lounge to relax and watch TV with other guests. Coin-operated laundry facilities and payphones are located in or near all buildings. Till August 29, 2009, Single or Twin room rates are available with housekeeping, towel service and breakfast:
$45.00 per night Single
$55.00 per night Twin
All reservations require the first night's accommodation charge be paid at the time of reservation. Notice of cancellation must be received 48 hours prior to the arrival date otherwise the deposit is forfeited and reservation is cancelled. Please direct your reservation to UVic Housing Services. A detailed on-campus housing map is available here.
email: bookings@uvic.ca, fax: +1-250-721-8930, or telephone: +1-250-721-8395
Downtown Hotels: We are able to obtain some favourable rates from the following hotels. Please make reservation directly with the hotel of your choice.